Podcast: Play in new window | Download
Subscribe: Apple Podcasts | Android | RSS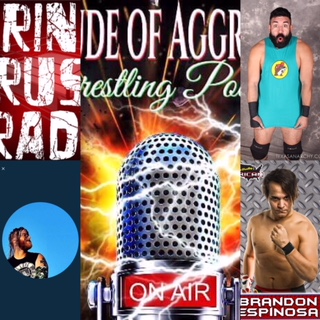 Episode 213 is a little bit of new mixed in with some older stuff that has never before been released.
We begin by welcoming back to the show Ring Rust Radio's Donald Wood. Donald has been on the show a few times now and was our first guest since the relaunch of the Podcast a few weeks ago. Donny returns for Royal Rumble weekend to talk to Big Dave about Raw 25, the Royal Rumble, and to tell everyone about the big live show Ring Rust Radio is putting on tomorrow afternoon in Philadelphia. You will definitely want to check out this awesome interview.
From there, Big Dave releases a series of interviews we thought had actually been lost in an editing glitch a couple of months back. Thankfully, that was not the case and here on this special weekend, the time never seemed better to release this previously unreleased content. Recorded during Ol' Gator's hiatus from the show, and recorded during the weeks leading into Hell In A Cell and Survivor Series, we know you guys will love these interviews. The first inmterview is our version of Ride Along as Dave interviews Jack Jameson and Tyler Jet as they drove to a show. Buffoonery abounds and then some in this fun look at what wrestlers and Podcasters talk about when on the phone during a long drive.
From there, Dave interviews Brandon Espinosa and Phil "The Thrill" Lampe. Recorded in the days leading up to Dynamo Pro's big event with Fighting For Autism, Dave talked to two guys seemingly at opposite ends of the spectrum. Brandon Espinosa has years of experience and has been consistently ranked in the PWI 500; Phil, on the other hand, was just launching his pro wrestling career at the time of this interview. Their paths would intersect at the Fighting For Autism event and they spend some time talking to Dave about the big event, their respective careers, the importance of branding, and a host of other issues. These two interviews are a great way to cap off an Episode of the show that we are so very happy was not lost.
Please make sure you are checking out the Attitude Of Aggression and all of the other great pro wrestling and sports related content at www.thechairshot.com. The Chairshot….remember to always use your head.