Podcast: Play in new window | Download
Subscribe: Apple Podcasts | Android | RSS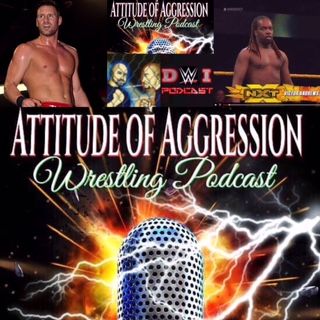 Episode 200 has arrived as we are sporting a fresh new look and an awesome Episode to celebrate this momentous occasion with you Aggressionasholics.
We kick Episode 200 off with an awesome interview we did a few weeks back with one of the hottest free agents out there in all of pro wrestling, the one and only Donovan Dijak! Donovan spent about 45 minutes talking to us about all sorts of great things such as his time in Ring Of Honor, his upcoming appearances, including Limitless Wrestling's Nothing Gold Can Stay event on July 21, what his future plans might hold, and how he handles the evolving way in which Social Media has created unprecedented, and sometimes unexpected, interactions with the fans. I can't think of a better way to begin Episode 200 than with this incredible interview that we know you will enjoy.
From there, it is the return of the Tri-Cast. But here on Episode 200, the Tri-Cast is truly tremendous. Dave and Ol' Gator were joined by Big Rick of the 2 Man Band Podcast and PC Tunney of the DWI Wrestling Podcast and the four guys spent well over 90 minutes discussing a wide variety of topics that fans and fellow Podcasters will find very interesting. What makes for a good wrestling podcast? Can 205 Live be saved? What is the Match of the Year so Far? Can Samoa Joe actually beat Brock Lesnar? What to do about Asuka? Is Indy Wrestling actually bad for business? Are we still optimistic about the industry? We cover a lot of ground in this riveting conversation which is a bit like Table for 3 meeting up with Bring It To The Table…but without Vince in our ears. We really think any wresting fan, pro wrestler, wrestling Podcaster, or just about anyone involved in the industry, will find something in this segment that will appeal to them.
From there, we interview "Mr. Everything", Victor Andrews. Many of you may have seen Victor on the June 7th edition of NXT as he was involved in a tag match against Heavy Machinery…and was then assaulted by his partner after the match. Victor tells us all about his experience at NXT and what he thought of the operation in Orlando. Any Indy wrestler out there looking to break into WWE will especially want to listen to this interview as Victor reveals something even we did not know about how pro wrestlers can get noticed by WWE. It is a great interview and an awesome way to wind down Episode 200.
Before the guys leave though, they do recap the June 26th house show in Bakersfield, California. This took place the night before the 2nd Women's Money In The Bank match and took place while the women on Raw were putting on that excellent Gauntlet match on Raw in Los Angeles.
On behalf of all of us here at the Attitude Of Aggression Wrestling Podcast, thank you for all your support for 200 Episodes and here is hoping for 200 more!