Podcast: Play in new window | Download
Subscribe: Apple Podcasts | Android | RSS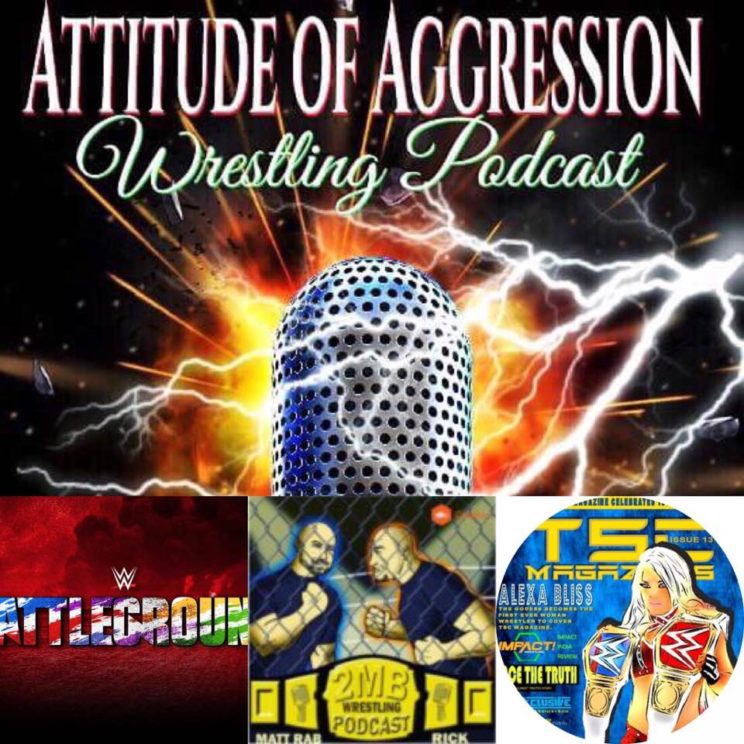 After a lengthy delay due to demands at the day job, Big Dave is back to release a long overdue Episode 204.
We begin this Episode by going back in time a bit and review Raw from July 10. This was the Fallout show after Great Balls of Fire. Big Cass would begin his feud with the Big Show on this night and Finn Balor and Elias Samson got their feud amped up as well. The Hardys questioned whether they were obsolete…and then got beaten by Gallows & Anderson. The partial, potential, maybe, Shield Reunion tour got going on this night as Seth Rollins and Dean Ambrose both intervened in the others' business. Goldust and R-Truth finished off the Golden Truth once and for all, Bayley got a pinfall on the Raw Women's Champ, Neville got pinned for the first time since joining 205 Live, and the mystery of Kurt Angle's personal issues truly took shape as a public reveal loomed on the horizon. The biggest development surrounded the Universal Championship as both Roman Reigns and Samoa Joe claimed the right to face The Beast, Brock Lesnar, at Summer Slam. With Brock in the middle of it, a match between Roman Reigns and Samoa Joe was booked for the following week…with the winner getting a shot at The Beast at Summer Slam.
We then move on to the July 11th installment of 205 Live. Tozawa would pay a heavy price for the temerity of pinning Neville the night before. TJP and Rich Swan played a game of one-upsmanship while Brian Kendrick and Jack Gallagher were not playing nice at all. In the Main Event, the long saga of Noam Dar and Cedric Alexander finally came to an end (we hope) in an I Quit match. Who emerged on top and what surprising break up took place after the match? We let you know on Episode 204.
From there, it is on to the July 12th episode of NXT. This episode was significant as it saw the NXT debut of Bobby Fish, who battled the undefeated Alestair Black. Tension continued to grow between Kassius Ohno and Hideo Itami, a qualifying match for the Mae Young Classic took place, Johnny Gargano returned for the first time since he was betrayed and beaten down at NXT Takeover: Chicago, and the two top contenders for Bobby Roode's NXT Championship emerged. In the Main Event, the Authors of Pain defended the NXT Tag Titles against Heavy Machinery. While Heavy Machinery fell short, a new, more dangerous, team stepped forward to be the next to try and put an end to the AOP's Book of Dominance.
We then shift over to more current events…relatively speaking…as Big Dave is joined by Big Rick from the 2 Man Band Podcast to review Battleground '17. The PPV was largely reviled and ridiculed by the critics and fans alike and Dave and Rick run down the card and offer their thoughts as to how and why things went off the rails. Did New Day put an end to the Uso penitentiary and what made this match an instant classic? Who won the grudge match between Shinsuke Nakamura and Baron Corbin and why was the end so unsatisfying? Why was the Women's Fatal 5 Way Elimination match a potential wasted opportunity for the Blue Brand? What exactly went on with the AJ Styles vs Kevin Owens United States Championship match? Did John Cena defend America's honor in a Flag Match against Rusev? Did anyone care who won between Sami Zayn and Mike Kanellis? And, of course, we give our thoughts on the Punjabi Prison WWE Championship match between Jinder Mahal and Randy Orton.  Should the Punjabi Prison structure be retired once and for all? Dave and Rick don't pull punches as they review what most consider to be the worst WWE PPV of the year.
We close out Episode 204 with an interview with TSC Magazine's Joe Salles. Joe has, more or less, become the US Social Media maven for TSC Magazine, an up and coming pro wrestling magazine out of Mumbai, India. Joe and Dave talk about Battleground, Jinder Mahal, whether Jinder truly resonates with the 1.3 billion in India, and much, much more. It is an interesting take on the current product and various aspects of what is working….and what isn't.
Please make sure you are following the Attitude Of Aggression and all the other great Podcasts at the YES Wrestling Network at https://yeswrestling.com/yes-wrestling-podcast-network-ca6b750e8f79