Podcast: Play in new window | Download
Subscribe: Apple Podcasts | Android | RSS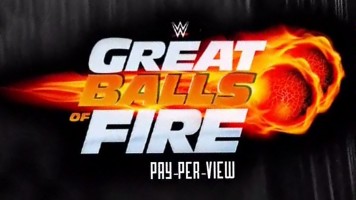 The first Episode of this new post-Episode 200 era is all about Great Balls of Fire….the PPV that is. On Episode 201 Big Dave and, for half the Episode, his lovely wife Kayleen lead you through all the twists and turns of the past three weeks of Monday Night Raw and then they preview the Raw exclusive PPV coming to us all from Dallas, Texas on July 9th.
Dave begins by recapping the June 19, 2017 installment of Raw. It begins with Roman Reigns' big Summer Slam announcement and by the end of the segment, we ended up with a Roman Reigns vs Samoa Joe match later on. The Hardy Boyz took on Gallows & Anderson, Seth Rollins and Bray Wyatt began their program with each other, and Akira Tozawa staked his claim to becoming the new #1 contender for Neville's Cruiserweight Championship. The Miztourage was born on this Episode and the Raw Women's Title picture got very cloudy with six women all mixing it up with each other and staking a claim to get the next shot at Alexa Bliss. At the conclusion of the show, the mystery of who had been attacking Enzo Amore was revealed and it sent shock waves through the WWE Universe. We provide you with all the details here on Episode 201 of a huge night in Evansville..
From there, Dave moves on to the July 26th installment of Raw, which emanated from Los Angeles, CA. At the outset of the show, Roman Reigns accepted the challenge of Braun Strowman for an ambulance match at GBOF…and was then tossed from the stage into an ambulance by the Monster Among Men. Sheamus, Cesaro and Elias Samson battled the Hardy Boyz and Finn Balor in a big 6-man Tag Team match. Miz TV had its now infamous Ball Family segment that was right up there with "This Is Your Life" as far as the crap factor was concerned. Samoa Joe tried to lock Brock Lesnar in the Coquina Clutch. Was he successful? Enzo tried to reach his brother, Big Cass, and mend fences between the two. Things did not end well for Enzo. In the Main Event, the women took center stage as Bayley, Nia Jax, Sasha Banks, Mickie James, Dana Brooke, and Emma all competed in a Gauntlet match to determine the new #1 contender for Alexa Bliss' Raw Women's Championship. Who came out on top, who impressed and who disappointed? We let you know on Episode 201.
Dave's wife joins him to review the July 3rd edition of Raw. Hostilities between Enzo and Big Cass continued, Sasha Banks teamed up with Bayley to go up against Nia Jax and Alexa Bliss, and Cedric Alexander and Noam Dar met, yet again. The Miz would run his mouth and would end up defending the Intercontinental Championship against Heath Slater…all while wearing a suit. An interview with Samoa Joe and Brock Lesnar quickly devolved into chaos with Joe trying to track down the Universal Champion in the arena in Phoenix. Finn Balor took on Cesaro and in the Main Event, Apollo Crews stepped forward to try and offer competition to Braun Strowman. Braun would win…but would also lose, so to speak, by the end of the night. Confused? We have the details for you on Episode 201.
From there, it is time to preview Great Balls of Fire '17. Can Tozawa end the reign of Neville and capture the Cruiserweight Title? Can Enzo Amore gain retribution against Big Cass? Which team will be Iron Men in the raw Tag Team Companionship match? Will Bray Wyatt make Seth Rollins pay for his sins? Can Deam Abrose recapture the IC Title from The Miz? Can The Boss become a 4x Women's Champion? Who is leaving in an ambulance, Roman Reigns or Braun Strowman? And can Samoa Joe shock Brock Lesnar and claim the Universal Championship? We let you know our thoughts on Episode 201.
Please make sure you are checking out the Attitude Of Aggression and all the other great content on the Yes Wrestling Podcast Network at: https://yeswrestling.com/